"Perhaps the world I thought of as reality was in fact nothing more than a dream. But then would that mean the cities of Warsaw and Paris do not exist?"

This article deals with a real-world subject, such as a person, place or musical composition, that is presented within the game of Eternal Sonata. As such, details contained within this article may differ from real-world facts, and will generally focus on the material as presented in-game.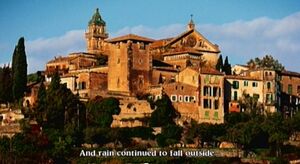 Raindrops (Op. 28 No. 15 D-flat major) is a piano piece composed by Frederic Chopin.
"Raindrops" is presented in-game during the game's first chapter, immediately following Allegretto and Beat's boss battle with the Baby Dragon. As the piece is played, the game presents the story of Chopin's relationship with the woman George Sand, a famous romance author whose real name was Aurore Dudevant.
The game details how Chopin first mistook Sand for a man, due to her being a "somewhat masculine woman who wore pants and smoked cigars in public." The game describes how the two formed a relationship and traveled to the Spanish island of Mallorca, in the hope that the island's warm, sunny climate might aid Chopin's health.
Unfortunately, the island entered its rainy season and Chopin caught a cold, leading to the relapse of his tuberculosis symptoms. As the rain continued to fall, Chopin was inspired to create this piece at the age of 29.
Real World
Edit
The piece is actually known as the "Raindrop prelude," one of 24 written by Chopin. It is the repeated "A-flat" sound that gives the piece the sound of raindrops, though Chopin himself protested to George Sand that the piece was not an imitation of the sound of raindrops, but rather a translation of nature's harmonies. Some, though not all, of the piece was written in Majorca. The piece has been featured in a number of other popular productions, including the James Bond film Moonraker and a marketing program for the game Halo 3.[1]
Behind the scenes
Edit
Notes and references
Edit