"Perhaps the world I thought of as reality was in fact nothing more than a dream. But then would that mean the cities of Warsaw and Paris do not exist?"

This article deals with a real-world subject, such as a person, place or musical composition, that is presented within the game of Eternal Sonata. As such, details contained within this article may differ from real-world facts, and will generally focus on the material as presented in-game.
"Wow! This is so exciting!"

This article covers content exclusive to the PlayStation 3 version of Eternal Sonata.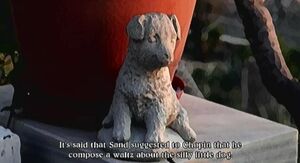 Little Dog Waltz (Op. 64 No. 1 Waltz in D-flat major), more popularly known as the "Minute Waltz," is a piano piece composed by Frederic Chopin.
In Eternal Sonata, "Little Dog Waltz" is presented in Chapter 4 following the events of Lament. It is explained that a popular story associated with the piece is that Chopin composed it after watching George Sand's poodle puppy chasing his tail, in 1846. The game continues that Chopin's romance with Sand had cooled considerably by that time and would come to an end just a year later. Chopin had enjoyed his time spent in Nohant, but his relationship with Sand was beyond repair. Given this, it seems likely that Chopin actually spent more time alone during this time period than with Sand. Nevertheless, it remains an amusing story connected with the piece, and could be true.
Real World
Edit
While known as the "Minute Waltz," the waltz is not actually intended to be played in one minute. The emphasis is on the second syllable, "minute" being synonymous with "small" in this case. Assuming the story connected with the piece is true, the little dog in question was named Marquis and the piece was titled in French "Valse due petit chien."[1] Chopin dedicated the piece to his student, Delfina Potocka, who in the game is the younger woman that appears at Chopin's bedside and performs the song "Heaven's Mirror," though in real life, Potocka was not present at Chopin's bedside.
Behind the scenes
Edit
As "Little Dog Waltz" was added for the PlayStation 3 release of Eternal Sonata, it does not appear on the game's original soundtrack. Those who have the PlayStation 3 version, however, may listen to it freely from the game's menu after completing the events of Lament, or anytime in an Encore Mode playthrough.
This is the only Chopin piece added for the PlayStation 3 version and was likely included due to the increased role for Minuet, who is only briefly seen in the Xbox 360 version of Eternal Sonata.
Notes and references
Edit