"Perhaps the world I thought of as reality was in fact nothing more than a dream. But then would that mean the cities of Warsaw and Paris do not exist?"

This article deals with a real-world subject, such as a person, place or musical composition, that is presented within the game of Eternal Sonata. As such, details contained within this article may differ from real-world facts, and will generally focus on the material as presented in-game.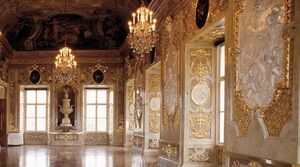 Grande Valse Brillante (Op. 18 in E-flat minor) is a piano piece composed by Frederic Chopin.
Beat: "And wow, I never knew Frederic was that good, either."
Polka: "Huh? Good at what?"
Beat: "At the piano, of course. Weren't you watching? Didn't you see him playing? The way he played was just so amazing! Way better than any piano player I've ever heard before. It was almost like he was a real professional pianist."
Polka: "What? Are you saying Frederic was playing that music? I was watching the people dancing the whole time. I didn't pay any attention to who was playing the music."
— Polka is surprised to learn that it was Frederic playing "Grande Valse Brillante."
In Eternal Sonata, "Grande Valse Brillante" is presented in Chapter 4, following the events on-board the Baroque Ship and the Pirate Ship Dolce. It is explained that Chopin composed this piece at the age of 23, three years after the failed insurrection in Poland in 1830. Chopin was living in Vienna, Austria, which was difficult for him, as the country was opposed to Polish independence. At the time, waltzes designed for dancing were in fashion in the country, though this particular waltz was probably not meant to be danced to. Chopin, perhaps making an effort to be popular, appeared in venues such as salons and performed on the piano for small audiences. He put on a cheerful mask, while inwardly he was likely angry towards himself.
Following the presentation of the piece, it is revealed that Chopin was at the piano in-game, performing the piece for the attendants at the ball being held at Baroque Castle. Polka expresses surprise at this, as she was paying so much attention to the people dancing that she didn't notice who was playing the music.
Real World
Edit
While this was Chopin's first published waltz, he had previously written at least sixteen which were later destroyed or published posthumously. The title "Grande valse brillante" was later used for three waltzes in the Op. 34 set.[1]
Behind the scenes
Edit
Notes and references
Edit