"Perhaps the world I thought of as reality was in fact nothing more than a dream. But then would that mean the cities of Warsaw and Paris do not exist?"

This article deals with a real-world subject, such as a person, place or musical composition, that is presented within the game of Eternal Sonata. As such, details contained within this article may differ from real-world facts, and will generally focus on the material as presented in-game.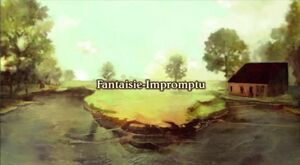 Fantaisie-Impromptu (Op. 66 Posth. in C-sharp minor) is a piano piece composed by Frederic Chopin.
"Fantaisie-Impromptu" is presented in-game at the very end of the events of Chapter 3. It is explained that it was composed in 1835, but Chopin had never intended to publish it and possibly even asked his friend, Julian Fontana, to burn it after his death, due to its apparent resemblance to Ludwig Van Beethoven's Moonlight Sonata. Fontana, however, published the piece six years after Chopin's death, despite his request, after wrestling with the difficult decision. As such, today we are now "able to immerse ourselves in this wonderful world of fantasy".
Real World
Edit
As stated by the game, Fontana was indeed asked to destroy the piece, but refrained. It may have been Fontana himself who added the word "Fantaisie" to the title of the piece. The melody of the piece was used in the song "I'm Always Chasing Rainbows." [1]
Behind the scenes
Edit
Notes and references
Edit